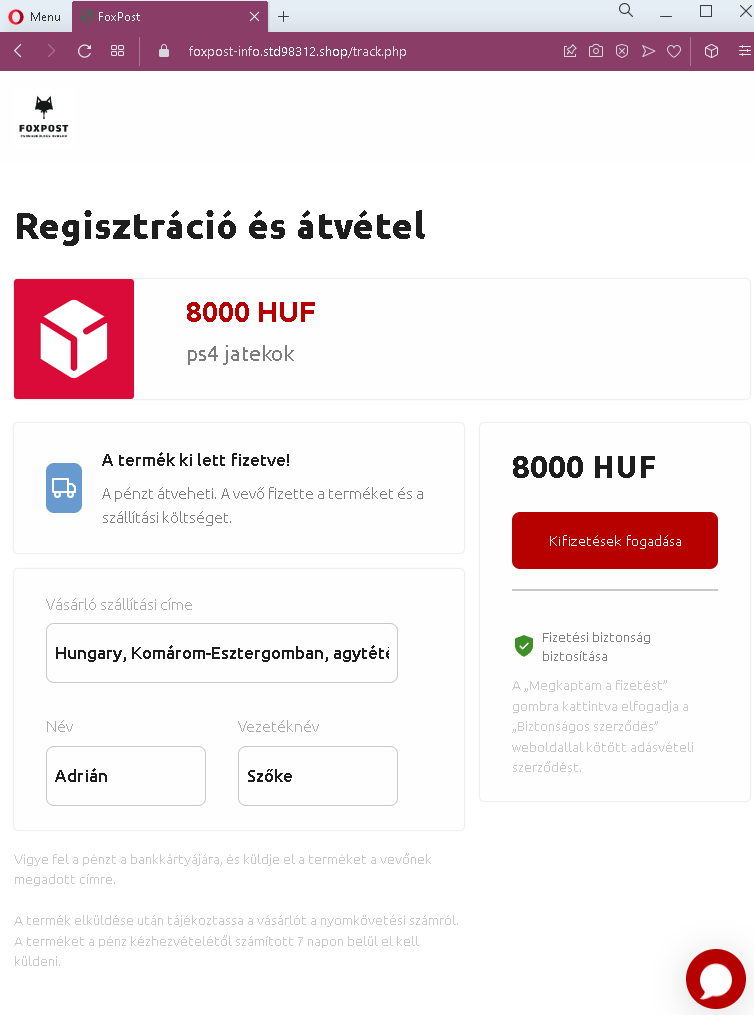 Content of the phishing page:
Regisztráció és átvétel
8000 HUF
ps4 jatekok
A termék ki lett fizetve!
A pénzt átveheti. A vevő fizette a terméket és a szállítási költséget.
Vásárló szállítási címe
Hungary, Komárom-Esztergomban, agytétényi út 50, 6767
Név
Adrián
Vezetéknév
Szőke
Vigye fel a pénzt a bankkártyájára, és küldje el a terméket a vevőnek megadott címre.
A termék elküldése után tájékoztassa a vásárlót a nyomkövetési számról. A terméket a pénz kézhezvételétől számított 7 napon belül el kell küldeni.
Translation of the phishing page:
Registration and collection
product_image
8000 HUF
ps4 games
The product has been paid for!
You can take the money. The buyer paid for the product and the shipping cost.
Buyer's shipping address
Hungary, Komárom-Esztergom, agytétényi út 50, 6767
Name
Adrian
Last name
Blond
Transfer the money to your bank card and send the product to the address given to the buyer.
After sending the product, inform the customer about the tracking number. The product must be sent within 7 days of receiving the money.